Boys Basketball Team Defeats The Kelso Highlanders in Close Game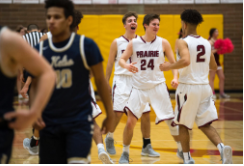 Hang on for a minute...we're trying to find some more stories you might like.
The boys basketball team beat the Kelso Highlanders 53-46 on Tuesday, January 22 at Prairie High School.
The first time the boys played Kelso, it ended in a loss for Prairie, but as a very close game with a score of 52-57. The boys were more motivated than ever according to senior Bronson King." The day before in practice we were all pretty motivated and focused because we weren't going to let them win a league championship on our home court and let them sweep us." King also added how everyone contributed to the win," Everyone stepped up in the game and we played as a team to get the win."
Junior Zeke Dixson noted how good it felt to beat them after losing the first time they played them."It felt good to beat them after losing to them the first time because we all knew that we would've had that game if it was anywhere but Kelso." According to Dixson, they focused on Kelso's biggest player, Shaw Anderson, and stopped him from getting to the free throw line." We really did a better job on the defensive boards and keeping Shaw off of the free throw line."
The boys are looking forward to their senior night on Monday, January 28th against Mountain View.