Boys and Girls Basketball Teams Come Home With Wins in a Double-Header Against Evergreen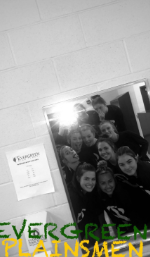 Hang on for a minute...we're trying to find some more stories you might like.
Both the boys and girls basketball teams finished with wins in the double-header against Evergreen on Friday, January 18.
This was the second time that each team had played the Evergreen Plainsmen. The girls defeated the Plainsmen the first time they played them, so they wanted to use this game to work on their weaknesses according to sophomore Claire Heitschmidt. "This game we made sure to work on our defense and to run through our plays to make sure they are perfect for our upcoming games."
The first time the boys team played Evergreen, it was a close game but the boys unfortunately fell behind. The boys were more determined than ever to beat them this game," I think the team did great. We're starting to pull together at the perfect time," said senior Kameron Osborn. The boys started preparing for this game in practice leading up to this game. According to Osborn, they had to change their game plan to win this game," Evergreen plays a lot differently than the other teams in the league so we played a pack in defense and pushed the ball." The boys and girls are looking forward to their next double-header against Kelso on Tuesday, January 22.