Wrestling Team Takes Down Mountain View At Home Meet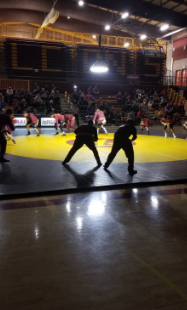 Hang on for a minute...we're trying to find some more stories you might like.
The wrestling team beat the Mountain View Thunder in their meet on Wednesday, January 9 with a score of 35-32.
The Falcons had tough competition this meet but had no problem rising to the challenge according to senior, Justice Walmer. "I think I did pretty good, the team did really well especially considering how good Mountain View is." Senior Nic Langer also shared this opinion and even noted it as some of the best wrestling he's ever seen, "As a team it was some of the best wrestling I had ever seen. Everyone was jumping out of there seats cheering on their teammates."
The meet was really close until Walmer had a last second pin in the third round of the last match. " Honestly without them all cheering for me I never could have done it, and that made it feel so much better." Walmer said. He also added how nobody quit throughout the match and how his teammates showed perseverance." No one Quit. Even the guys that lost made sure not to get pinned so that Mountain View didn't get as many points." The team is stronger than ever and are ready for the Clark County Invite on January 12th.