Lady Falcons Take On Tough Competition In San Diego Tournament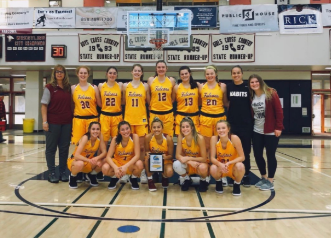 Hang on for a minute...we're trying to find some more stories you might like.
The lady Falcons basketball team played in a tournament over Christmas break in San Diego California.
The Falcons were in California for six days over the break. They played a total of three games and ended the tournament with a record of 2-1 and taking 3rd place. The team had a great time down in California, being able to bond and play against some really tough opponents. "Yes I enjoyed it. It was a blast being there with my team. Being able to compete against competition we typically don't see makes it so much better" says Junior Allison Corral. Corral had fun playing in all three games but one stood out for her, the second game. "We got to go against the number one point guard in the nation. Even though we lost, westill competed and tried our hardest."
The trip was spent doing nothing but basketball. The team had also got to go out and do a lot of things as a team. "We went swimming all the time and met so many new people from different places. We also ate and just hung out as a team" says Junior Dayna Vera. "My favorite memory was going to the beach, shopping and buying wetsuits with Allie, and Kendyl and going into the ocean" says Vera as she expresses her favorite part of the trip.
The team clearly goes to compete at a higher level but what they will take home is not a metal or a trophy, but life long memories with there best friends.