Boys Basketball Team Bonds On and Off the Court on Arizona Trip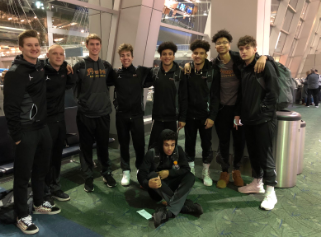 Hang on for a minute...we're trying to find some more stories you might like.
The boys basketball team took their annual holiday tournament to Arizona from December 26th until December 31st.
The team had three games in total, in which two of them were wins and one loss. According to senior, Tom Hapgood, the team played exceptionally well in these games. "I think our team did pretty well overall. We shared the ball better and played more as a team. We ended up placing third in the tournament with a record of 2-1."
This trip benefitted the team not only on the court, but as a team as a whole. "I think the team learned to play together better, and how to play more as a team, Along with just better team chemistry overall." Junior, Mark Frazier said.
Off the court, the team did numerous other activities with their free time. "Some activities we did were ride the lime scooters around, go to eat in little festive places, shop, go to the pool, and hangout as a team." Frazier also added. Out of all the things they did, Hapgoods favorite was doing the Escape Room with his team and coaches. "The most fun thing we did on the trip was the escape room with the teammates and coaches. It was fun, challenging and brought our team together more. Even though we didn't escape, it was still a good time." Overall, the trip was successful for the boys team and helped to bond them even closer. They are preparing for their future games and applying what they learned to these upcoming games.