Prairie Girls Basketball Team Starts Out Season With A Bang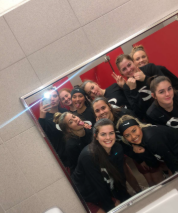 Hang on for a minute...we're trying to find some more stories you might like.
The Prairie girls varsity basketball team defeated two of Washington's most competitive teams during their trip to Seattle on Dec. 7th and 8th. The group faced off against the number ten ranked Glacier Peak Grizzlies, as well as an aggressive Snohomish team.   
After an overall close game, Prairie defeated Glacier Peak High School by a score of 54-46 in Friday's match. Junior athlete, Meri Dunford, reflects on the outcome of the game.
Dunford says, "The first game was tough, and we had a rough third quarter, but we came back in the forth and ended up winning by eight."
Seniors, Cassidy Gardner and Brooke Walling, played key roles in the outcome of this game. They were responsible for many of Prairie's scoring opportunities.
Prairie came out on top again in their game against Snohomish High School, another highly ranked school, on Saturday. The final score was 57-18. Brooke Walling, was awarded player of the game.
Haley Reed, a junior at Prairie, explains the strengths and weaknesses of the team during the two games.
Reed states, "A strength was out shooting. We shot really well in both games from around the arc. A weakness was our transition defense in the first game, but that was only for the second quarter."
Prairie hopes to be undefeated this year in league play, as well as win the state tournament. They will continue to prepare for the upcoming season in their next game on Dec. 11 against WF West.