Banquet season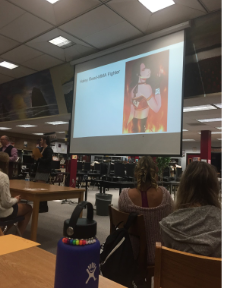 Hang on for a minute...we're trying to find some more stories you might like.
Since the volleyball and soccer season have both come to an end, they tie up the year with team banquets. The first team banquet was wednesday the 28th for volleyball. Senior volleyball player, Katie Vroman, says that the banquets represent, "all i've been through in the program." The coaches of the three teams talk about all the players and all the team has gone through throughout the season. The banquets show respect for coaches and players and tie off the season nicely.
Maya Davis, a junior soccer player, says she enjoys the banquets and the give the team recognition for the year and the work that has gone into the season. Her favorite part of the banquet was the team awards, where players vote for their teammates to get awards such as, best defensive player, most improved, and most inspirational.
Banquets are an important part of any teams season, because they give the team, coaches, and parents a chance to reflect on the season and congratulate all the work each player and the team has put forth.