National Signing Day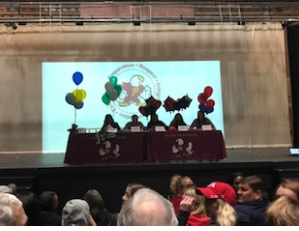 Hang on for a minute...we're trying to find some more stories you might like.
Wednesday, November 14, marked National Signing Day for all high school athletes. he Prairie Falcons had six seniors sign to five different colleges including four different sports. The seniors were supported by fellow falcons, parents, and teachers as they signed their contracts.
Brooke Walling signed to Fresno State in California to play women's basketball. Looking forward to college, Walling is most excited for the chance to, "experience new things," as well as, "meet new people."
Through basketball, Walling claims she has learned the value of a good, "work ethic," and, "how to make friends."Walling will miss her high school teammates the most as she moves on to college because they have all become her good friends.
Malaika Quigley signed with Southern Oregon University to play soccer. Katie Vroman also signed with Southern but on a volleyball scholarship. Quigley and Vroman plan to room together in college.
Cassidy Gardner signed with Portland State to play basketball and Kameron Osborne, also playing basketball, signed to Oregon Tech.
Jordan Chiles signed to UCLA on a gymnastics scholarship. Chiles is excited to, "compete with a team," as she enters college because she has been competing as an individual throughout high school.
To those striving to play a sport at the collegiate level, Chiles advises to, "always believe in the power of your dreams."
Throughout her gymnastics career, Chiles has learned the importance of, "being patient with things and not trying to move so fast through life."
These six individuals are the first of the 2019 Falcons to sign with colleges. Prairie has many outstanding athletes that will be signing later in the year as well.