Volleyball Soars To State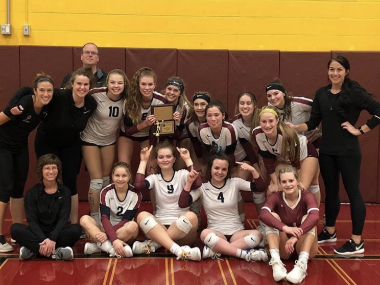 Hang on for a minute...we're trying to find some more stories you might like.
On Saturday, November 10, the Lady Falcons volleyball team brought home a trophy from the bi-district tournament, securing a spot in state. The team defeated Wilson High School, making their way to the championship game, but then lost to Capital High School, taking second place overall.
The ¨outstanding performance¨ in these games goes to senior, Shelby Kocin. According to teammate Jamie Packer, ¨[Kocin] stayed positive during all 9 sets,¨ that were played, even if they lost.   
Before playing in the games, senior, Katie Vroman felt the team was well prepared. In practice, the team worked on, ¨making everything game like,¨ as well as working on improving both the, ¨mental and physical¨ aspects of the game.
After the games, junior, Jamie Packer felt that overall, they played well. During the game against Wilson, the team had moments of struggle but ultimately, ¨came out of them and played really united.¨
The Falcons play again, next weekend on Saturday, November 17,  in the Yakima Sun Dome. The competition at the state level is more difficult than what the team has experienced so far this season. Packer believes the team can make it to at least the top four. With six seniors on the team, the ultimate goal is to go all the way and win the state championship.