Falcons Swim Team Makes a Splash!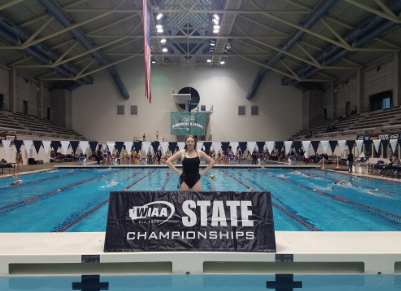 Hang on for a minute...we're trying to find some more stories you might like.
On Saturday, November 3, the Prairie High School girls swim team kicked off their journey to state with the the district meet at Kelso High School in Kelso, Washington. Swimmers from Washington schools in Districts 3, 4, and 7 all competed for a chance to swim in the state meet that would be held Saturday, November 10, at the Aquatic Center of King County in Federal Way, Washington.
Savannah Perkins was the only Prairie girl to qualify for state. The junior placed first in the 100m Freestyle, making this the second year in a row she'd compete in this event at state. "I was just trying to keep up with lane three," said Perkins. In this meet, Perkins also competed in the 50m Freestyle where she placed 5th, and the 200m Freestyle relay where the team placed 4th. At the state competition, Perkins placed 24th in her event, despite having a pulled rhomboid/rotator cuff muscle.
Other competitors representing the Falcons at the District meet include junior Brooke Coen (9th in 200m Freestyle and 4th in the 500m Freestyle), sophomore Ella Limberg (6th in 50m Freestyle), and the teams placing 4th in the 200m Freestyle Relay and 5th in the 200m Medley Relay.
Also competing in the meet for Prairie was senior, Amanda Keller. Keller placed 6th in the 100m Butterfly. Additionally, Keller swam in the 100m Backstroke, 200m Freestyle Relay, and the 200m Medley Relay. Although Keller didn't qualify for state this year as she did last year as a junior, she did meet her goals by, "Making it too finals in three out of four of my events and I beat all of my times and had personal bests."
As the Falcons swim season has come to an end, they will host their banquet Wednesday, November 13. Coach Dan Kirkland will continue with the boy's swim team in the winter season.