Volleyball Runs Toward State!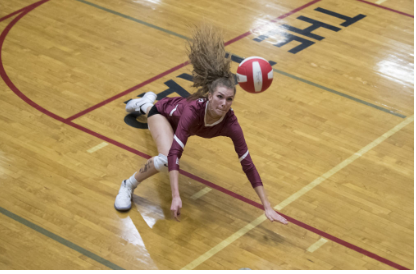 Hang on for a minute...we're trying to find some more stories you might like.
Volleyball takes a "W" as they win three sets in a row against Mountain View on October 31. In the first set, Prairie won 25-21, then won the second 25-18, as well as the third, 25-18.
Katie Vroman, one of the four senior captains, was asked before the game to find out some of her expectations for their team. Vroman says, "As long as we bring our all, we can do it." Prairie's volleyball team has prepared for this game by, "watching film and understanding their weaknesses," says Vroman. This game determines the tiebreaker for league champions; winning would send Prairie to state. Vroman mentions, to beat Mountain View, "We need to play quick and attack from the start."
After winning Halloween night against Mountain View, Prairie volleyball can now say they are going to state. Next, Prairie volleyball captains, Lainne Wilkins and Molly Packer were interviewed for after game thoughts.
Though both captains had a lot to say about their team's performance, they both could agree that "Prairie's energy was amazing!" Packer includes, "If we could improve on anything it would be play smarter."
One of Prairies tactics to keep a sharp defense was to create a rule that,"Every player was only allowed two mistakes," says Wilkins.
Katie Vroman, Lainne Wilkins, and Molly packer, all seniors,have over six years of volleyball experience are excited to move to state. In fact they will, "continue to train everyday and watch more film to improve and prepare for state." says Packer. Now, their next game will take place on Saturday, November 10, against Wilson as they strive to win their first state game for this year.