Cross Country Races into State Finish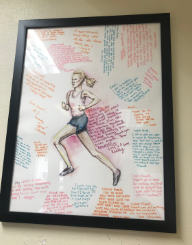 Hang on for a minute...we're trying to find some more stories you might like.
The Lady Falcons Cross Country team recently traveled to Pasco, Washington to compete in the state meet. The girls fought their hardest and took 14th overall in the state of Washington.
Senior, Hannah Kneeshaw, felt it was a great way to end her high school career. She explained it was nice to see hard work pay off, and felt that running with her team one last time was a great experience. Kneeshaw says she'll miss being with her team the most, having fun and talking with her fellow runners never failed to be a good time.
Cross country is arguably one of the toughest sports to compete in, but Kneeshaw says she has her ways of staying motivated. She explained that helping her team pushed her to succeed, saying that if she works hard and gets better, her teammates will follow suit. This hard work does not come without sacrifice however, Kneeshaw said she spent her summer running 5 days a week, putting her social life second. Despite these challenges, Kneeshaw said it was definitely worth the effort. As a senior, most athletes wish to leave a mark on their program, changing it for the better forever. Kneeshaw says her mark is to change the culture, explaining, "a leader doesn't have to be the best or fastest, they just have to make everyone around them better."
For the past four years, the girls cross country team has been coached by Mrs. Freed, a CTE teacher here at Prairie. Freed says it felt really good to get to state, explaining her athletes worked hard. It was no small task either, as Washington is one of the most competitive states for XC. The effort has been a long time coming as well; Freed explained the girls have been working for this for 3 years. Freed also described her pride for her runners for believing in themselves, "there's no timeouts in cross country, no time to tell them they need to regroup, it's one go, that's it."
Hopes for the future of the program include not only getting to state, but placing as well.