The Falcons Head To The Playoff For The First Time Since 2011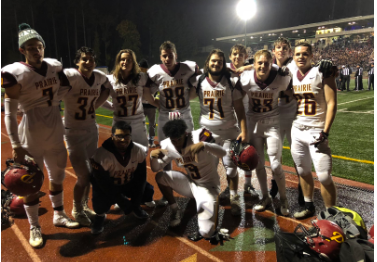 Hang on for a minute...we're trying to find some more stories you might like.
The Falcon football team got the win against the Evergreen Plainsmen Friday night at McKenzie stadium which guarantees them a game in the playoffs..
The Falcons knew the importance of this game right from the kickoff. The Falcons brought their high intensity to the game and beat the Plainsmen 34-7. The Falcons got there first points of the game in the second quarter from Junior Devonte Clayton followed by another touchdown by Junior AJ Dixson late in the second quarter. In the third quarter, Senior Bret McGuire added another touchdown followed by two more from Dixson and Clayton.   With this win, the Falcons are going to playoffs for the first time since 2011.
"It feels really rewarding to make it to playoffs for the first time because we all put in work this offseason and season to achieve this goal" says Junior AJ Dixson. " It was exciting because it was a game we knew we could win and try and make it to playoffs for the first time in a long time" says Dixson talking about playing his last league game of the season.   
Senior, Bryce Cordon, explains how the falcons prepared for this victory. "We practice to no end, we worked on everything we needed to work on, and focused on the weaknesses of our opponent so that we could come out with the victory."
Next up the falcons will take on Lincoln high school in Tacoma this upcoming Friday at 7pm.