Prairie Track Team Competes at District Tournament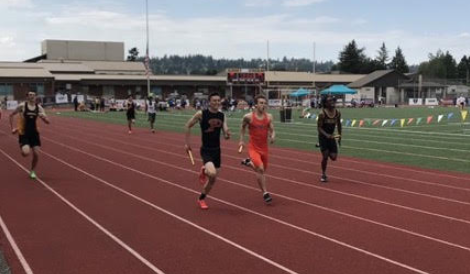 Hang on for a minute...we're trying to find some more stories you might like.
The Prairie Boys and Girls Track team competed at the 3A bi-district track meet at Sunset Chev Stadium, in Sumner, Washington on Saturday, May 19th.
For the boys, junior Nolan Mickenham placed 3rd and broke the school's fastest time for the 200 meter dash, with a time of 22.32. The 3rd place finish will see Mickenham going to compete at the state track meet. The boys 1600 meter relay team placed 3rd at the bi-district meet, which will secure them a spot at the state track meet as well. The 1600 meter relay team is comprised of Will Sanborn, Zeke Dixson, AJ Dixson and Jett Pharn. Will Sanborn said he was very happy to make it to state with his relay team, " We really wanted to be going to state to compete, we'd love to place high or even win, but to be competing at the meet itself will be an accomplishment". In the 300 meter hurdles, Caleb Sagert placed 6th with a 40.60 time.
The girls also had a successful day, with Katie Vroman placing 5th at the 800 meter with a time of 2:21.44 and Meri Dunford placing 8th in the 3,200 meter with a 11:22.63 time. Valerie Schmidt placed first in the 300 meter hurdles at the meet, her time of 45.49 seconds was the best at the bi-district meet, good enough to secure her a spot at the state track meet. The 1600 meter relay team, the members of which are Meri Dunford, Mary McLeod, Katie Vroman and Molly Packer, placed 4th with a time of 4:08.62, which also qualifies them for state. Molly Packer, a junior on the relay team said she's glad that they qualified, "We didn't want to go this far without making it to state, so I really am happy that we did".