The Prairie Softball Team Plays in Their Senior Night Game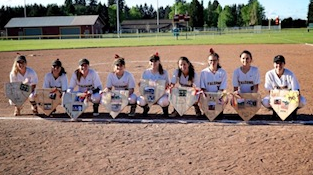 Hang on for a minute...we're trying to find some more stories you might like.
On Friday, May 11th the Prairie softball team took on Castle Rock high school on senior night that ended in a tough loss for the Falcons.
The game started off with a different momentum, explained many of the players. All nine of the seniors started and the game was back and forth with advances from both teams. Castle Rock then soon earned some runs and ended the game with a 4-1 victory over the Falcons.
Junior, Ashley Shelton explains what it was like to be playing in one of her last games with the seniors. "It was very bitter sweet. I know they'll be moving onto bigger and better things but I'll definitely miss them on the field". She also emphasized how next season the returning varsity team will have big rolls to fill.
Senior Kylee Snider explains how it was sad playing in her last game because she knew it would be the last time she would play on the Prairie field. She also explained about her favorite memories from the season "my favorite part of the season was having fun all the time at practice and games and also hitting two home runs against Kelso". Overall she said how its been a great season that will definitely be missed.
The Prairie seniors were all greatful to get to play one last game on their home field. Next week they are onto districts, and many of the girls are hoping state this season as well.