Boys JV Basketball vs Hudson's Bay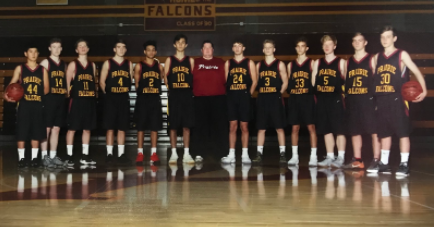 Hang on for a minute...we're trying to find some more stories you might like.
The Prairie Boys Basketball team defeated Hudson's Bay last Tuesday, January 23rd.  The final score was 52 to 44 with the Falcons coming up on top at home. Players, Aiden Fraley and Gabe Hilman, contributed to Prairie's win by excelling on the offensive side of the ball.
Sophomore, Aiden Fraley, when asked how the Falcons did, said, "We as a team played great defense. On the offensive side of the ball, we played as a team, not as individuals. We were being unselfish."  He added that this was the reason for Prairie's "dominance" in the game.
Gabe Hilman also stated that Prairie played very well this game. When asked what Bay's strengths and weaknesses were, he stated, "Bay's players were sharp shooters but when pressured, they would turn over the ball and couldn't make free throws-leading to their defeat."
Aiden and Gabe, scoring 22 points and 12 points respectively, are expecting success with the remainder of the season. Later this week, they will be playing Fort Vancouver and are hoping for a win!