Prairie Volleyball Is Headed To State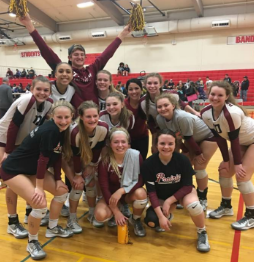 Hang on for a minute...we're trying to find some more stories you might like.
The Prairie volleyball team is headed to state after a successful weekend in Yelm, Washington. The team won clutch games needed to win to go to state last week, November 3rd and 4th. First all league middle hitter Abby Brotherton and junior outside hitter, Katie Vroman helped contribute to the win.
Abby Brotherton, hungry to prosper at state is now looking for ways to be successful, she explains, "to prepare for state we will need to work really hard these next three days at practice, preparing mentally and physically."  When reminiscing about the tournament she believes that they succeeded because they stayed consistent throughout all the games. Brotherton helped the team win by cheering whole tournament and supporting her teammates.
Katie Vroman admits to feeling a little nervous coming into the tournament with the stakes being so high. The Falcons needed to win two games in a row to secure their spot in the state tournament November 10th and 11th. Katie concluded, "We won the bi districts tournament by staying in the moment and not thinking ahead.  We needed to focus on the match we are in and how to win before we can think about our next opponent."
The team is preparing for state this week and the players "expect to do better" than last year. Katie said players are stepping up and filling in the spots that last year's seniors left behind.