Prairie Cross Country Runners Take First At Districts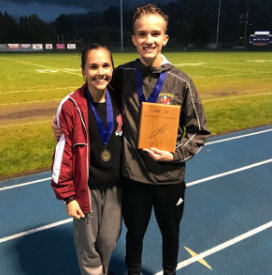 Hang on for a minute...we're trying to find some more stories you might like.
The Prairie cross country team placed first place in boys and third place in girls. The race took place in Kelso last Thursday, October 19th with very wet conditions. The team was led by sophomores Luke Lund and Meri Dunford, both placing first in districts.
Luke Lund led the boys' team, placing first. His finish helped the boys take advantage, as they earned a victory in districts for the first time in 27 years. When asked if weather impacted their performance he said, "I like when it rains for a race because it affects others negatively which I use to my advantage."
Meri Dunford led the girls team, placing first, and helped the lady falcons achieve third in districts. Despite the conditions in which she said people were slipping and falling, she was neck and neck the whole race and persevered till the end. Beating Fort Vancouver's runner by one second.
Both Meri and Luke are now preparing for regionals. Meri is hoping for success in regionals and said, "I think I can get top 4 or 5". Meri is projected to place second in regionals and Luke is projected to place within the top eight. Both are training even harder everyday to prepare for the race.