Volleyball Sets up For a Future in State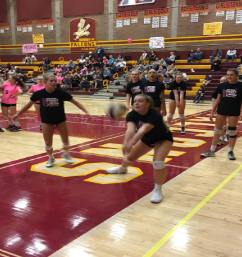 Hang on for a minute...we're trying to find some more stories you might like.
The dig pink volleyball game is held to raise money and awareness for breast cancer. The side out foundation teams up with the volleyball teams to help research in science and help in the fight against breast cancer. The players from Kelso and Prairie played in their matches Thursday, October 5. Both Varsity and Jv teams came out of their games with a win while C-team had a loss.
The match results for Varsity were 25-16 first set, 25-11 second set, and 25-13 the last set coming out with a win. The Jv team won 2 of their sets as well, with scores of 26-24 1st, 19-25 2nd, and 16-24. Suffering a loss the C-team's match result are 21-25, 8-25, 7-15.
Before each match the Varsity girls walk into the gym tapping the letters "HRT" above the the door. The letters stand for hard work, respect, and team above self. Junior Abby Brotherton has a personal ritual of her own by writing the name of the person who she plays for each game on the inside of her finger..
            Brotherton says her game play was solid and recalls, "the way I performed last night I couldn't perform that way without my team."                                                                                                                                                                                   
Her hopes for state are to "place in the top three and go into each match treating it like a championship game not underestimating anyone."
The varsity girls recognition as BGSD team of the month was nice moment for Abby, she states, "[I'm] really glad the community is recognizing us and and giving credit for all there [team is] doing."
Although the C-team came out with a loss Mrs.Reid, the coach, believes her girls are working very hard and improved a lot. To help them out in the future they are focusing a lot on communication on the court, serving, and passing skills. Mrs.Reid's purpose is to enforce positivity and teamwork as an important aspect of the sport and Prairie volleyball culture.