2017 Prairie Falcon Pink Out Football Game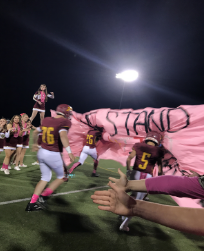 Hang on for a minute...we're trying to find some more stories you might like.
On Friday October 6th, the Prairie varsity team took on Hudson's Bay in this years pink out game. The game was also the homecoming reveal.
The game was an opportunity to spread awareness for breast cancer. The student section was packed and all decked out in pink in honor of the yearly pink out game. The homecoming court was also revealed during halftime of the game.
The game started off even for both teams until a fumble happened and the Eagles caught momentum. The score then switched to 3-0 Eagles. Shortly after the Falcons made an interception to quickly shift the momentum to Prairie; they accomplished a touchdown for a score of 7-3. After this Prairie kicked off the ball to the Eagles. Hudson Bay responded with touchdown, sending both teams to halftime  as the score read 9-7.  After half-time Prairie quickly got a defensive stop on the Eagles achieving momentum. The Eagles then gained an interception and  touchdown with a new score of 16-7. Prairie then soon gained the momentum back with a long run by Nolan Mickenham, then a touchdown by Izaiah Ward from a pass by Jayson Maddux. The game then quickly died down with no momentum shifts from either team. Prairie faced a loss to the Eagles with a final score of 16-13.
Junior Nolan Mickenham explains how for next game, the team just needs things to "click" on offense. The team has big hopes for the season Mickenham also explains, "Payoffs would be a major accomplishment for the school, and hopefully start a new winning culture for Prairie football".  Junior Jayson Maddux also tells that by this loss they can learn to be more consistent. With losses he still maintains a great relationship with his teammates, "as much as we mess up or have a bad game, I have nothing but love for my guys".
The Prairie JV football team also took on the Hudson's Bay Eagles and had a different outcome with an end score of 36-14, Prairie. The C team takes on the Eagles as well, this week on Thursday, October 12th.     Football players run out from half-time through the "We Stand United" poster in honor of pink week and the Vegas incident. All the enthusiastic fans stand on the sides cheering on the players as they run out.