Cross Country Runs Towards Their Goals
Hang on for a minute...we're trying to find some more stories you might like.
Prairie's Cross Country team has had lots of success in the past, and they hope to continue that success this season. The team competed at the Nike XC meet in Portland last weekend. This meet had some of the toughest teams from around the Pacific Northwest. There were over five thousand runners competing in the meet. We interviewed one of the runners, junior Hannah Clouse, about the meet and about some of the goals the Cross Country team has their year. She said, "I PR'd my 5k time, but some of the other runners had difficulty with the track because it was muddy." It had rained the days leading up to the meet so the track was not in good conditions for the runners. 
Clouse also talked about the Cross Country team's goals for this season. She said that they want to get both the whole girl and boys team to state this year. Last year the whole girls team went to state, but only a few boys made it. So this year they want to do it together. I asked Hannah Clouse how they planned on doing achieving this goal she said, " Hard training, and pushing our teammates to be the best we can be." So as the team continues their season, they will be getting ready for their state journey, working hard as a team and having fun while they're at it.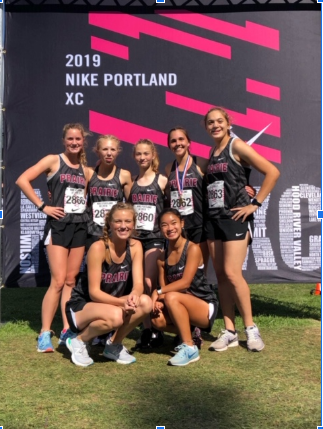 Girls Cross Country Team at Nike Portland Meet
(Photo by Meri Dunford)