Breaking Down Barriers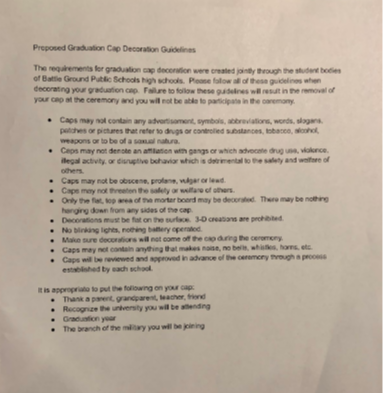 Hang on for a minute...we're trying to find some more stories you might like.
Back in March, as the senior leadership within ASB was talking with Mrs. Watts, an idea was brought up surrounding graduation caps. The thought was as to whether we could decorate them or not, which our principal quickly responded with a "nope".
This caused some disappointment by those within the conversation, but they all slowly turned their heads in unison towards myself and asked if I could do anything. As the Student Representative on the BGSD School Board, I told them I would ask. Well, as of May 13th, 2019, graduation caps will be allowed to be decorated.
This isn't to say I did this all by myself. The policy actually had to have input from all high schools within the district, which included PHS, Battle Ground, Summit View, and River Homelink. Additionally, Sebastian Frazier was instrumental in helping write a mock policy and contract as evidence for the district. The process also included a meeting between rival ASBs, as BG and Prairie met up for coffee to discuss a possible journey to the end goal just as the idea began to gain traction.
Obviously, there have to be some kind of guidelines surrounding this kind of privilege. In addition to following these guidelines, students will need fill out a contract similar to the one used for dances in order to be able to decorate.