Prairie Soccer Saves Their Spot In State Tournament In Final Minutes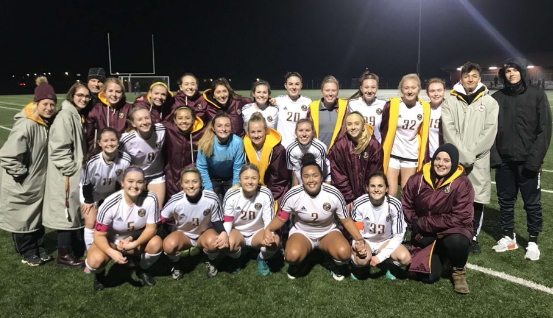 Hang on for a minute...we're trying to find some more stories you might like.
The Prairie girl's soccer team did the unexpected on November 8th, 2017. After three consecutive years of constant disappointment approaching the state tournament, the Prairie girls defeated Marysville-Getchell Chargers to secure their spot as top eight in the state. The Falcon's accomplishments didn't stop there however, the girls earned their deserved spot in the state tournament set to take place Friday 10th. Thus letting them to continue their battle in the 3A state tournament.
The girls had been in the same position years before but dreaded following another year of let down. However, this game was different. The Falcon's head coach Michael Thyron improvised a bold move and placed a freshman forward as the starting goalie for the night. The results were phenomenal. Despite the fact that putting an underclassman in during a crucial time was a seemingly risky decision, freshman Alyssa Talkington stepped up for the occasion as senior captain Lilly Dunford noted that "she did really good," complementing the younger player's performance.
However, it took more than a goalie replacement to capture the win. "It was our effort, we started acting like we wanted to win," senior Madison Ellis describes. After a dry first half the Falcon girls were looking weary, and that was when they approached an attitude change. The coaches in the locker room ultimately left it up to the girls. Whether or not they wanted to advance laid in their control. Ellis explained, "they didn't tell us much,- he just pretty much left it up to us. It was our game."
A refreshed Prairie offense took the lead against an aggressive Marysville Getchell team who was seeking for a tying goal. Prairie scored twice in three minutes shortly after halftime. Ellis and Dunford both agreed that it was different game because the Chargers decided to add another forward, something that was not expected by the falcons.
But it was the team's willingness that eventually paid off, when the whistle was blown and the Falcons were still up 2-1. Provided by senior captain Kaylin Sperley penalty kick and sophomore Macey Hall close range goal after halftime.
What awaited was history to be made, the lady Falcons would face an undefeated skilled Stadium High School team. Not having won a home playoff game since 2010 the Prairie girl's reversed the culture by earning their top 8 spot in 3A state rank, and have proven to be the most dominant team Prairie has had in the last four years.