Trunk Or Treat 2022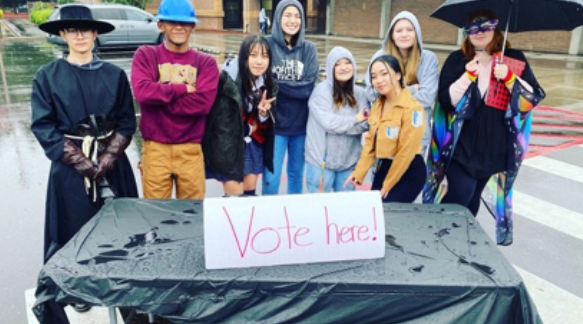 On October 21st, Prairie High School hosted its third-ever Trunk or Treat outside for the community.   
At Prairie High Schools' trunk or treat, any club of students or teachers can sign up to decorate a trunk and hand out Halloween candy to the community. Trunk or Treat is open for anyone to attend through a drive-through or a walk-through. This year there were 17 total decorated trunks at the event and tons of candy to give away. 
Trunk or Treat serves a dual purpose at Prairie High School. It is not only a fun event for the community to attend, but it is also a sock drive for people to donate clean, warm socks in order to vote for their favorite trunk. Each Pair of socks counted as one vote. Taylin Mandaguit is a senior at Prairie High School and the ASB president. Taylin said, "Trunk or Treat went great, we got lots of donations and were able to donate the socks to our FCRC so they were able to distribute them out to people in our community."
A big part of trunk or treat is the participation of the community when asked how ASB advertised the event to the community Taylin Mandaguit said "We advertised it by putting up flyers in local businesses, and apartments as well as posting it on all of our social media and having ASB members post it."
The trunk that got the most pairs of socks donated won first place trunk and a custom trophy in the trophy case at Prairie High School was the band program.
Ricardo Martin Del Campo is a senior at Prairie High School, he participated in the trunk or treat as part of the band program's trunk. When asked what his favorite part about trunk or treat was, he said "winning… no actually giving back to the community and being able to give out socks to those in need."
Ricardo Martin Del Campo explains what it took the band club to get 1st place, "Music and the power it brings to a community, I think music is a very connecting factor so that's probably why."
Overall Prairies 2022 Trunk or Treat was a success with lots of people getting candy and lots of people getting socks. All thanks to a good turnout from the community.