Advanced Placement Tests are Coming Up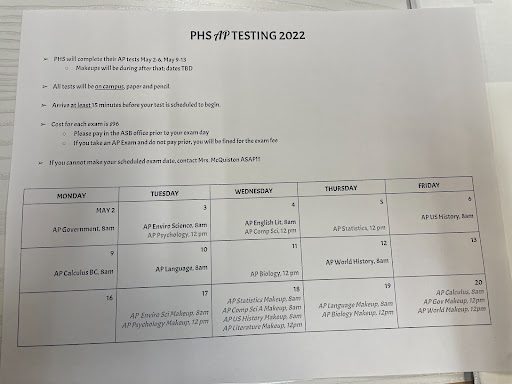 Many students are preparing for their AP (advanced placement) test coming up in the next couple of weeks. AP Government and Politics is the first class to test, next Monday, May 2nd. Olivia Jones, a senior who is taking 4 AP classes is feeling the struggle of getting ready for the tests. "I'm feeling very nervous about taking these tests, but if I just review what I know, I'm sure I'll be fine," said Jones.
Teachers are also scrambling to not only teach new topics but review old ones. "I'm preparing my students by reviewing multiple choice and free response questions and posting review videos on google classroom," stated Mrs. Homola, the AP Statistics teacher. Although students are nervous about the test, the opportunity to earn college credit makes the enormous amount of studying worth it. "I've been reviewing for my tests and working more on topics I'm not sure about to hopefully get a better score on the test," said Kira Caesar, a junior. AP tests can be daunting, but staying relaxed, using positive self-talk, and sticking to what you know can go a long way on the tests.