Choir Performs for Future Falcons to Come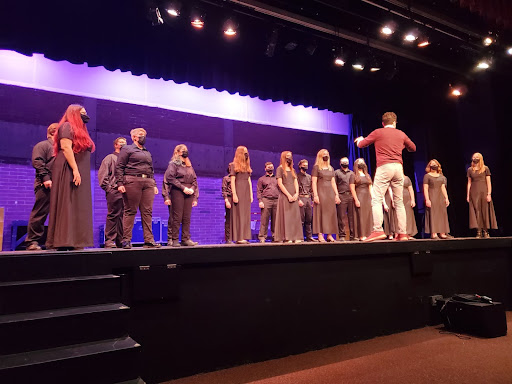 The Seniors will be leaving soon, and the Juniors will be there to fill their shoes. 
But who will be there to replace the Freshmen? That would be next year's Future Falcons, and what better way is there to welcome them to PHS than greeting them with a song?
And that is exactly what PHS' choir group did for us on Future Falcon Night. 
Future Freshmen came to the Future Falcon Night to be introduced to all the classes that could come with the first year in high school. All the classes set up presentations that outline exactly what the classes are about. But the grandest of presentations happened in the auditorium where the Choir and Drama classes put on a show. Coming from the choir class is Tyler Monday, "King of Mondays". A bass in the performance. 
"So, this event is a performing art (and other stuff) Future Falcon Night to get people from incoming Freshman class, so they can enroll in this- Drama's gonna be putting on an act, Band's gonna be putting on an act. Us, the choir will be singing, different sports classes will have booths in the Gym. The role of the choir today is that we're gonna be doing a performance to show what the choir does…and what we hope other people will join us to do."
The Choir class was to perform a few sets of performances throughout the night.
Tyler went on to express how he feels about performing.
"I'm very much ready for it- I have to be screwing around because I'm part of a couple different things that are taking place including the E-sports team (Go falcons). But other than that, no. There's no issues that I am not ready for.
Tyler gave afterthoughts shortly after their first of many sets performances throughout the night. He seemed relieved after the first performance of many and his charismatic aura was practically untouched.
"I'd say it went great actually! There were less mess-ups than what we had in the choir room just to warm up (We had a little fun in the choir room which made us mess up a bit). It made us nervous and it was- we ended up doing great actually!"
Tyler had little voice left to spare the next day, but needless to say the night was a success and the choir can be confident that people will join them in the next year and years to come.