Spirit Week Brings the Holiday Spirit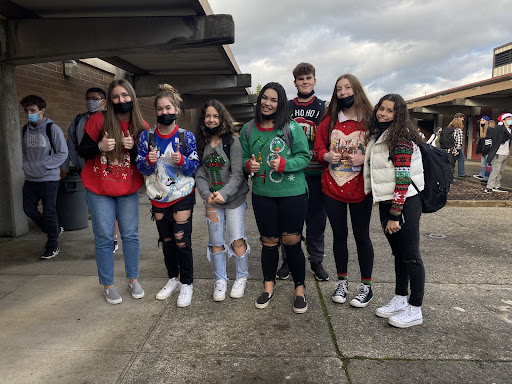 The week before Winter Break is in full swing. Along with it, comes the Holiday spirit. A Spirit Week before Winter Break has been a tradition at Prairie for years. Giving the students and staff an opportunity to dress up and get involved with the school and holiday festivities.
This 2021-2022 school year winter Spirit Week involved: Pajama day on Monday, Ugly Sweaters on Tuesday, Snow Gear for Wednesday, Holiday Character Dress Up on Thursday, and finally class Color Wars on Friday. Rachel Frazier, a junior, explained why she likes to dress up for the fun filled Spirit Weeks, "I think Spirit Weeks are super exciting and they bring together our school…the Winter Spirit Week is my favorite." Bringing Prairie together is a big goal when creating these Spirit Weeks. They give students a chance to express themselves in different ways and have fun while doing so. Frazier said she would love to see an "Anything but a Backpack" day.
ASB advisor and science teacher Ms. Ross, gives her take on Spirit Weeks. "What I love seeing during Spirit Week is all the creative outfits staff and students wear. It makes the school day more fun, allows more laughs, and allows students to see another side of their teachers. My favorite part would have to be seeing some of my more reserved or shy students participate in spirit days." Ross says. It is always so great to see everyone at Prairie participating in such fun events. Ross said she would like to see "tye-dye day, dress as your teacher or student day, and formal day."
Spirit Weeks have and will continue to be a big hit with many more ideas coming from students everyday. Everyone is already looking forward to the next exciting