The Show Must Go On!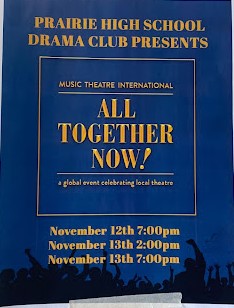 With Covid taking over and changing how we live life, many things have been taken from us or postponed. Including our Prairie Drama Show Productions, but this year Prairies Drama department was given the opportunity to put on a show. Music Theatre International's Global celebration of All Together now!
This production was performed in over 2,500 theatres in 50 states and 40 countries all within the same weekend of November 12-13. Only 3 shows were performed and with the show being the comeback after shut down of the previous year Legally Blonde, returning actors are eager to get back on that stage performing for a live audience.
Shelby McCombs was asked what's different about this show compared to past shows? Her response was " It's a musical review and we got it from.. Music Theatre International.. They've given it to a bunch of schools, run on a specific weekend, and so we are basically doing a bunch of popular songs from different musicals. Claire (Director) put it together to fit a storyline of how musical theatre impacts those who watch it."
Safe to say the audience was just as excited as the actors to be back in the auditorium to watch their friends and family perform. The show was sold out on opening night and all seats were filled including the extra seating section, but following covid safety rules.
Jaxon Lewis, this years new stage manager commented on his excitement of being a lead position of the crew. " Everyone listens to me when I say things need to get done.. And everything is turning out better than we expected but it's still spooky." Jaxon plans on being a part of the stage crew the rest of the year in hopes of there being another show this year. Including being stage manager until he graduates.
Gladly the show has gone on this November, hopefully there will be more to see from Prairies Drama program very soon!