Prairie Getting Inspired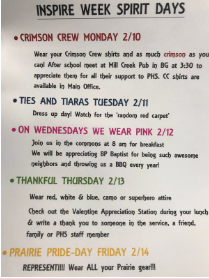 The week of February 10th through the 14th is Inspire week at Prairie High school. Inspire week gets people involved with the community formed at school and shows  just how much people are doing outside themselves by setting up fun events and other ways to show support. 
Noah Shelton, a student very involved with inspire week at Prairie says, " Looking out for people and trying to appreciate what other people are doing is what it's all about." People at Prairie, such as security guards, administrators, and teachers, do so much behind the scenes for the students at our school and setting aside a week to realize what they do and show support for them is important.
Jason Castro, part of the Prairie administrative team says, "Nowadays, high school is getting harder and harder and high school kids are coming to us with more and more baggage with their real life stuff and so Inspire week is more about letting them know that they're not alone." Many students struggle with the amount of stuff they're supposed to juggle in high school and having a week to let go and really focus on the good things about school can be very beneficial to the students. 
Shelton said "Inspire week has impacted Prairie by more people becoming aware of the little things that are happening around the school, and the little things that people are doing." It takes a lot of people to help run a school and make it a fun and good learning environment for students, so realizing it and just saying 'thank you' to the people, like the janitors, who work so hard to keep our school running is very important. 
Castro adds, "When we're at our height, especially with crimson crew, it's really cool." Crimson crew is a group of volunteer students who go out once every two weeks to a sporting event and cheer on their fellow classmates. Castro also said that, " It's just cool to be able to go and to show even the local business' like Mill Creek Pub how much we appreciate them supporting our school." 
Shelton also said " I am mainly looking forward to hopefully really seeing people get into the spirit of this week and really go out of their way to make someone's day great. I will be trying to do that as well."  It can be uncomfortable, but going out of your comfort zone to make someone feel good about themselves is really important especially because you don't know how much one compliment could impact someone.
Leave a Comment