New Semester Kicks Off With TOLO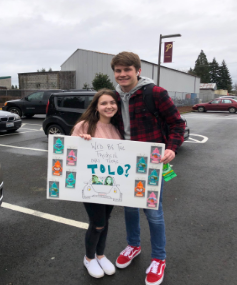 This Friday, the Battle Ground School District's first semester ends, with the second semester starting on Monday. To start off the new semester, the Prairie High School ASB is holding the TOLO dance on Saturday, February 1. TOLO is one of the main dances, usually held between Homecoming and Prom. Before TOLO, females traditionally invite males to the dance.
TOLO will be held this year at Prairie High School. The theme of the dance is Prairiedise, which students will wear Hawaiian-like attire to. Some examples of clothing to wear would be a Hawaiian shirt, swim trunks, or a bucket hat. 
This is the second dance of the year for Prairie High School. Welcome To The Jungle, the jungle themed dance, was originally supposed to serve as TOLO, but got cancelled due to lack of ticket sales. Only seven students bought tickets leading up to the dance, forcing ASB to cancel the event. 
ASB organizes all dances at Prairie. ASB President, Bella Millet, says that they have been planning TOLO since the end of winter break. 
"It's a lot easier to plan for than Homecoming, so we started after Christmas break," said Millet. "We had to figure out all of the decorations, so it took about two weeks."
TOLO will be held in the main gym at Prairie High School. Prairie's ASB takes the time to decorate the gym before the dance. For dances like Homecoming, Millet says that it takes about three hours to decorate, with every member there to help. 
"TOLO should be a little easier to set up," says Millet. "If everyone comes to help set up it shouldn't take that long."
While for many dances, males typically ask females to accompany them, TOLO provides girls an opportunity to conduct the proposal. Senior, Kianne Bell, asked her boyfriend, Logan Robertson, to the dance earlier this week. The dance is a way for students to have fun with friends and go to dinner. Robertson's plans for the night include going to dinner with friends, and having a good time.
"I'm going to go with a group of friends to Buffalo Wild Wings for dinner," said Robertson. "Afterwards, I'll probably just go home and fall asleep."
Millet's plans also include going to Buffalo Wild Wings for the night, but she plans to take pictures before she goes to dinner.
Since the theme of the dance is Prairiedise, students have been preparing their attire accordiningly. Robertson plans to dress in a Hawaiian style shirt and a bucket hat for the night.
"I like formal dances a little more because it's fun to dress nice, but I think the Hawaiian theme is pretty fun," said Robertson.
Both students plan on having a good time with friends at the dance. Robertson and Millet both think TOLO will be a big success.
Leave a Comment