Prairie Students Return To School After Break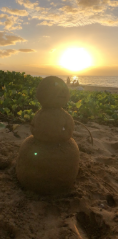 This Monday, Prairie High School students came back to school after a two week winter break. The break began on December 20th and ended January 5th. This Christmas break was a week longer than last year's break because of the delay of school during the teachers' strike for better pay.
Winter Break allows students to rest and relax from school work. Winter sports teams still continue to practice and play throughout the break. This allows teams to travel for different competition. Prairie Wrestling competed in Kent, Girls Basketball competed in California, and Boys Basketball competed in Yakima. Bowling and Swimming stayed close to home and continued to practice. 
Some students used the break as a way to travel around the country. Senior and ASB Officer, Jaylee Aho, flew to Maui, Hawaii with her family for the holidays. 
"It was nice to have a relaxing vacation with my family," said Aho. "I was really looking forward to spending my break somewhere sunny."
While Aho was enjoying the sun, senior, Caitlyn Jones, was enjoying the snowy slopes in Sunriver, Oregon.
"I had a really fun time with my friends," said Jones. "We went snowboarding and ice skating." 
While some people traveled, some students just stayed at home and enjoyed the holidays with their families, friends, and loved ones. 
When asked how it is like being back from vacation, Aho responded that she "really [misses] Hawaii, and [wishes she] didn't have to leave."
Caitlyn Jones explained that she is "not happy about the school work, but it is nice to be back with [her] friends."
Now that they have returned after their holiday break, students can focus on the last four weeks left in the first semester. For some students, finals start in three weeks, right before the start of the second semester. 
Once the new semester begins, Prairie's students will have new schedules and some will have new classes.