Seniors of Fall Sports Say Farewell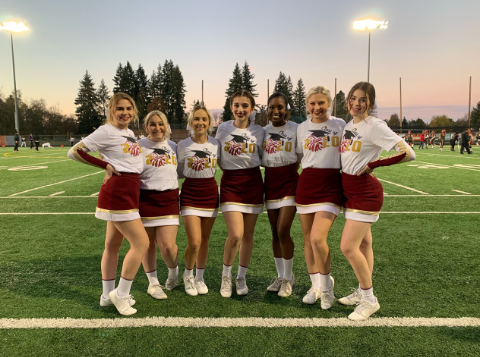 As a new decade of Falcons approaches, we say goodbye to seniors participating in football, cheer, and dance at our last league season home game. November 1st commemorates the end of the fantastic 2019-2020 football season. 
While the boys take the district stadium field for possibly the last time, Senior Tim Banaszek reminisces on these past four years and recalls always putting forth his best effort on and off the field. "It's about giving your all. This is the last time I'll ever play football, and I keep in mind how hard we worked and knowing that we'll always be brothers." When asked what he's done to become the athlete he is today, he said it's about going the extra mile; working hard, putting in extra reps while lifting, and cooperating together as a unit. Overall, Banaszek says this year was the most memorable. The legacy of Prairie Football has completely changed, describing the team as being "as together as ever." 
Senior cheerleader, Veyonce Ratcliff, says this last season is her best yet. Ratcliff says "Coming together as a family and becoming closer with my teammates is what's most important. We've improved so much… we've accomplished a lot of skills and are able to overcome many challenges." Ratcliff hopes to remember her fellow cheerleaders and all the memories she's made in the cheer program. Her goal was to "make her mark", and shes definitely done that. When asked what's made her the athlete she is today, she shared "Working on myself outside of practice and coming into practice everyday with a positive attitude." 
Delaney Shanahan, a senior member of the dance team, recollects all of the effort she poured into dance team these last 2 years. Come Friday night, this will be one of her last times performing under the lights. Shanahan says her best memory during her time spent with dance team has been the overall building of the team; a now 26 person group that once started off as four. When asked what her main takeaway will be from these last final nights, she said her goal is to leave it all on the field, leaving behind a mark that she hopes will be remembered for years to come. 
As these seniors look back on their 4 years, they want to pass on some advice to the underclassmen. Banaszek wants to highlight how important it is to check in with your friends. You may assume they're doing okay, but by the off chance they're not, make them know they're loved and appreciated. He also wants to stress the importance of being inclusive to everybody, and making everybody feel involved. Ratcliff wants to pass on the significance of honoring all your teammates and making everybody feel valid and important. Lastly, Shanahan hopes to share that you should get out of your comfort zone, talk to new people and build relationships. 
As we interview Athletic Director, Jason Castro, he wishes nothing but the best of our football players, cheerleaders, and dancers Friday night. He shares his excitement to honor them and commemorate the new decade of CCYF football players to come, who will be Prairie Falcons before we know it.