Joy Filled Mornings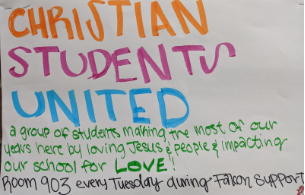 Students are getting excited as Christian Students United gets ready for their hot chocolate outreach that will be held on the 29th of October. Leaders of CSU are working to reach students by spreading kindness in the morning as students prepare for their day. 
Leader of CSU, Kyah Hamsley explains the reason why this outreach is so important to her and the club. "The purpose of the outreach is to REACH students by being extensions of hope and joy to them, being the vessels of love that makes a difference in their day,"  Hamsely says.
The club CSU is a christian club that wants to spread  love to all of the students around the school. Throughout the year they have many outreaches and events held at school and after school. 
The leaders have to take time out of there week to prepare for these events, " I help the kids brainstorm and not to forget details"  explains Mrs Rowe, the CSU advisor. " There is lots to think about when planning these events; if not planned correctly, the event doesn't go as smoothly as we would like."
The hardest part about planning these events is finding the supplies to be able to serve the vast number of students.
"I don't know who is supplying the hot chocolate, FairWay coffee is providing the hot water they are limited on what they can do." says Mrs. Rowe
The outreaches seem to be a big hit. Students enjoy both helping and receiving what is provided by CSU.
Mrs. Rowe feels that it brings students great satisfaction when they are helping with an outreach. Just like positive psychology, when you are doing something greater than yourself, it is very fulfilling.