Homecoming: A Starry Night
Homecoming is the first dance of the school year and something students have been looking forward to since school started.This year the dance will be held on Friday, October 11 at Prairie. The staff and ASB have worked to make it special for everyone involved. 
"Every generation is different for dances  and if everyone dances like they do in footloose, even the chaperones can have a good time." says Castro, the Athletic Director. "It would be very awkward to tell people to stop humping each other."
The dance is all about having a good time with friends and keeping it clean is a good way to make sure that happens. Dancing "like they do in footloose" would make the chaperones more comfortable too. Prairie has taken on the motto #face-to-face-with-space when it comes to dances. 
All administrators at Prairie know the style is shorter dress, but keeping it classy and having a standard for what is appropriate, especially for school, is important. If your dress or outfit is too short, you can be sent home and asked to change before you can come back.  
"Dress code applies 100%, but dresses are shorter now because that's the style." says Jason Castro. " Were not going to send anyone home because they're wearing what everyone else is."
"This year we also want to celebrate the homecoming court and make it a bigger deal. More of a highlight with the dance," said Castro.
The court has always been a part of the dance, but never a center focus or in the spotlight for homecoming. 
"We want to parade them in, show them off. We would like to make it a bigger production," says Castro.
Without giving away too much, the assembly and the half time show at the football game are both going to be more court and dance focused with more student involvement. Homecoming is a fun and memorable experience for everybody and, as Castro says, "Seeing everyone have a good time is the best part."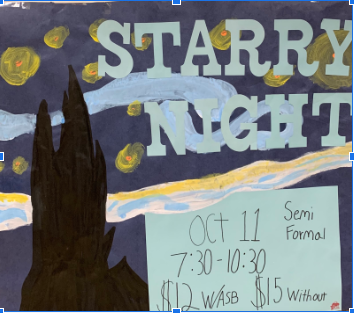 The Homecoming poster located in the cafeteria (photo by Jamie Packer).