Students are getting more and more involved and spirited as Inspire Week continues on throughout the school year. The week of October 23rd kicked off the school's plan for the ultimate high school experience, the spirit filled Inspire Week. Activities that are going on every day get both students and staff involved as they spread love around the community here at Prairie. 
"Inspire Week is a week where staff and students work together in active kindness to cultivate a culture of love and unity in our high school like never before," says student leader, Kyah Hamsley.
Inspire Week is all about spreading joy and making students have the best high school experience possible. Those involved want to especially reach those who are in need of hope and love.
"Our goal for future inspire weeks is to create an atmosphere that's not the typical high school experience, an atmosphere where school is fun, safe and everyone leaves feeling loved on," Kyah Hamsley says. " We want to spread crazy joy, change lives, and make high school feel like a family where wild love is NORMAL again!"
There are many ways to achieve what inspire week is all about. This past week, there were events occurring every day reaching out to not only those at Prairie, but the surrounding community as well. Some of these events included personal notes to teachers and coaches, bringing coffee to Battle Ground High School teachers, cleaning the stadium after Friday's football game, handing out candy, and so much more. 
Teachers can also get involved. Mrs. Rowe, a teacher at Prairie is a staff leader for Inspire Week and Ignite the Fire, encourages teachers to get involved. "They can challenge their classes to do things to spread hope, love, and joy." Mrs. Rowe says.
A major event that goes on during the week is Ignite the Fire. Youth groups from all across Clark County came to Prairie on Wednesday night and bonding with one another. The goal is to not only inspire, but to empower teens to walk in love and change the world.
"We want love to be known and kids to be transformed," Rowe says, "To choose life over death, hope over depression."
Inspire Week is all about being selfless and loving others. The students involved truly want the best for everyone in their community and they want to help make sure that everyone knows that they are never alone and that they are loved.
As Rowe says, "We is greater than me."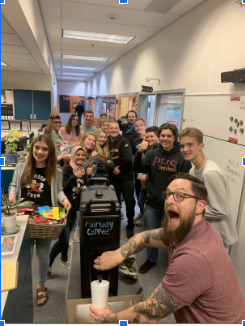 Inspire Week students visiting  Battle Ground High School to hand out coffee to the staff (P.C. Athletic Director, Jason Castro).