State Testing Comes to an End, Almost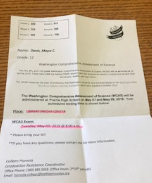 Hang on for a minute...we're trying to find some more stories you might like.
On April 22nd, 2019, House Bill 1599 was passed through the Washington state legislature, stating that state testing will no longer be a graduation requirement, starting with the class of 2020. The purpose of the bill is to remove barriers for graduating.
Although these tests are no longer required for graduation, part of the bill states that they are still required to be taken.
Students at Prairie are met with mixed results from this new bill. Junior, Caitlyn Jones, believes that state tests should be a graduation requirement. Jones reasons by saying, "you can easily cheat your way through high school so if you can't pass a simple test, you probably won't be able to go out in the world and do common things."
On the other hand Junior, Anna Neal, supports the bill that has been passed. Neal feels that the state testing, especially now, "is a waste of our time. It takes away time that we could be spending in the classroom and it is very close to AP testing and students are trying to study for those more important tests."
The state is requiring the tests to be taken still in order to receive data about how the schools are doing in their job of educating the students. However,this brings up the question of whether or not students will actually try on these tests, knowing that passing or failing will not affect them.
In response to this, Jones claims that she would still try her best on the test but she, "can see how other people would not try."
On the other hand, Neal admits that she might not try. Neal asks, "why would I waste all my energy stressing towards something that doesn't even affect my grade or future?"
State testing has been around for many years and this change could help to increase the number of students able to graduate high school.