Graduation Preparation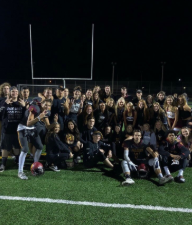 Hang on for a minute...we're trying to find some more stories you might like.
On April 23rd and 25th the seniors at Prairie High School attended meetings during falcon support to go over events in preparation for graduation. Graduation will take place on June 11, 2019.
Some of the upcoming events for seniors include the senior awards banquet, senior skip day, and mother daughter tea. These events will be within this next month as the seniors finish up the school year. Among the activities that the ASB will plan include the senior prank, senior brunch, and prom.
Senior, DaVanna Aho, is looking forward to graduation because she wants to, "further her academic career." Aho plans to attend Concordia University after graduation where she will major in secondary education.
Senior, Tyler Hunt, is also looking forward to graduation as he says he can, "celebrate with all [his] pals." Hunt plans to serve a mission for his church and then attend BYU in Idaho.
Both Hunt and Aho feel ready and prepared to graduate. Hunt thinks that, "these four years have felt like a long time and I am ready to go."
Although Aho feels ready to graduate, this is a bittersweet time for her. Aho states that she, "is not fully prepared to say goodbye to all of the people who have influenced me… and who have impacted me to jump out of my comfort zone."
All of these upcoming events are exciting for the seniors class of 2019. However for some students, it is sad to leave because, as Aho said, "Prairie is a second home," and the people here are like, "extended family."