Annual Booster Auction: Another Year, Another Success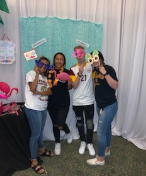 Hang on for a minute...we're trying to find some more stories you might like.
The annual Prairie High School Booster auction was held on Saturday, April 20. This auction is the main fundraiser for the booster club, which supports all of the athletic programs and clubs at Prairie. Over the last five years, the booster club has donated $215,000 to the programs at Prairie.
The success of the auction lies greatly with the participation of the community. Girls basketball booster president and track and field vice president, Kim Dunford, states that people can get involved by, "making donations to the auction, especially businesses." Others that might have students attending Prairie can help by, "joining boosters and being on the auction committee," as it requires many people in order to run.
Dunford also suggests that the athletes and club members at Prairie can help as well. According to Dunford, "each team is responsible for donating two baskets," that are to be auctioned off. Students can help by finding people to donate to these baskets.
Some students even have the responsibility of volunteering at the actual event itself. Senior Malaika Quigley, who is part of both the girls soccer and track teams, volunteered at the auction this year and  has in the past as well. Quigley claims that students are responsible, "to help out in the morning to set things up," and then work a, "night shift where kids sell things like raffle tickets," and then help clean up afterwards.
From previous auctions, the booster club was able to purchase scoreboards for the baseball, softball, and turf fields. They also raised enough funds to buy the track and field team an automatic timing system. The club even puts money into ASB accounts for teams to allocate where it's needed.
The auction is a much appreciated event at Prairie. As Dunford says, "Prairie has a tradition of excellence in clubs and athletics and the kids really try hard to be the best they can. But, they can't do it without the funds, and the school just doesn't have the ability to provide them." The auction, as well as other fundraisers put on by the booster club, provide the needed funds for Prairie to continue in its path of excellence.
Dunford explains, "if you believe in sports and clubs as being good for students, then the auction is a great way to participate and support that!"