Foreign Exchange Students Arrive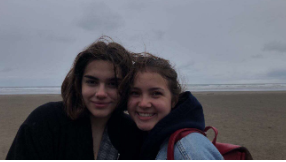 Hang on for a minute...we're trying to find some more stories you might like.
Many students at Prairie High School are participating in a foreign exchange student program, where teenagers from Europe come to stay in America for two weeks. Students are coming from both France and Germany.
The process of applying to the program is quite lengthy, according to Junior Kianne Bell, who has a student staying with her from France. It involves interviews, and, "in home visits to make sure everything is all good." Applicants then send letters to the administration in order for them to, "pick who they think will be compatible," before assigning students to families in the U.S.
Bell did this program last year and, "became very close friends," with the girl that stayed with her. This year, Bell will be travelling to Spain in the summer as part of the exchange where she hopes to, "gain more new experiences with different cultures."
Bell's exchange student goes by the name Phil, and comes from a French town near the Swiss border called Annecy. Phil signed up for the exchange program largely because her parents advocated for it. She states that her, "parents wanted [her] to do this to improve [her] English in general."
Phil finds it, "really interesting to discover the American lifestyle and educational system." This is not Phil's first time in the United States but the, "most exciting". Phil looks at this as an, "amazing opportunity to travel the world."
While in Washington, Bell plans to take Phil to the local tourist attractions, which includes, "exploring Portland". They also have plans to celebrate Easter. However, the main thing Phil will be doing is, "living [Kianne's] everyday life, including school and all volunteer activities."
Ultimately, the exchange student program looks to give teenagers around the world the opportunity to see what life is like in different cultures and places.