Battle Ground Rose Court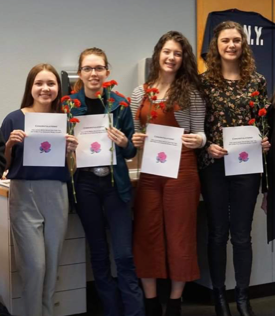 Hang on for a minute...we're trying to find some more stories you might like.
The Battle Ground Rose Court princesses for 2019 have been selected, and Prairie did not fail to represent. Junior Kianne Bell and sophomore Sophia Drinkward were selected to fill two of the four available positions. The other two spots were filled by Magaidh Merle, from CAM Academy, and Isabelle Carter, fom River Homelink.
Bell states that the Rose Court is an, "organization in Battle Ground used to represent the community in Portland," as they participate in the Portland Rose Parade. They also participate in the Hazel Dell parade, the Battle Ground Harvest parade, and have other speaking engagements.
The court is open to sophomores and juniors in the Battle Ground School district.
To get on the court, applicants must go through a series of interviews. Bell says that she went through a, "three hour interviewing process," before being selected.
The process of getting on the court is fairly quick. Bell states that she, "applied in February, had interviews in March, and then found out in early March," that she made it.
Being on the Rose Court is a one time opportunity for high schoolers. The court is decided around the same time every year and positions on the court are held for one calendar year.
Bell and Drinkward will both be seen on the Battle Ground float at the Hazel Dell parade, which will take place on the third Saturday of May.