Here Comes the Sun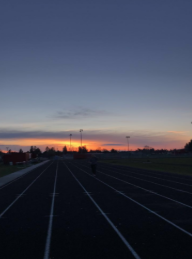 Hang on for a minute...we're trying to find some more stories you might like.
March 20th marked the first day of Spring and the sun came out to celebrate. Temperatures reached above 70 degrees here in Brush Prairie.
Junior, Anna Neal, enjoys the sun because, "everybody is in a good mood." Neal also loves the sun because it makes outside sports more enjoyable.
Neal says she can see a difference in people's attitudes when the weather is nicer. She believes that seasonal depression is definitely a real thing.
Senior, Tyler Hunt, also enjoys the sunshine. As a soccer player, he thinks it, "makes playing soccer way better." Hunt is currently injured so he says that, "watching soccer in the sun is much more enjoyable than in the rain."
Hunt also believes that seasonal depression is a real thing. He says, "When the sun comes out, everybody is happier."
To celebrate the first day of Spring, Neal along with many other students from Prairie, went to Dairy Queen to get a free ice cream cone, making the sunny day even better.
Both Neal and Hunt enjoy the flowers that bloom during spring time. Neal thinks that the blossoms, "are very pretty and make the world seem a little brighter."
The beginning of Spring also means that spring break is just right around the corner for the Prairie Falcons!