The Next Generation Of NHS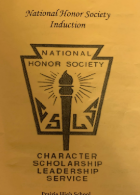 Hang on for a minute...we're trying to find some more stories you might like.
National Honor Society encompasses a number of Prairie's disciplined students that show leadership, character, and maintain a GPA of 3.5 or higher. This week, current NHS executives begin the process of selecting members for the 2019-2020 school year.
NHS is one of Prairie's oldest clubs. Students associated with the nationwide organization strive to better the community with volunteer work. At Prairie, members of NHS are responsible for organizing the food drive, as well as many other activities that benefit individuals' lives.
Last week, sophomores and juniors that fill the academic requirements for NHS were sent letters encouraging them to apply for the club. Students were asked to write an essay explaining their impressive leadership qualities and have a few of their teachers vouch for their character by filling out a questionnaire. If they are accepted, the students will be inducted into NHS at a ceremony near the end of the current school year.
Hugh Foster, a junior at Prairie and an NHS member, plans to return to the club for his senior year. Foster decided to join the organization "to give back to people", and because "it looks good on college resumes." He completes most of the required volunteer hours by helping out around his church. Foster explains his opinion on Prairie's NHS.
"I definitely recommend NHS. It gives you a chance to better your community," He states.  
Haley Reed will also be a returning member of NHS next year. Reed describes the standards that must be met to continue to be in the club.
"To be a member, you must have 12 total hours of community service, have a GPA of at least a 3.5, and be a junior or a senior", She explains.
As the school year will soon be coming to an end, Prairie's National Honor Society prepares for to induct the organization's next generation of students.