Spirit Week Coming Soon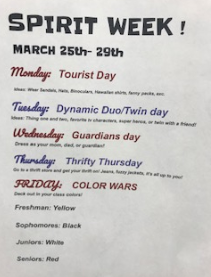 Hang on for a minute...we're trying to find some more stories you might like.
March 25 through the 29 is spirit week for the Prairie Falcons. As tradition goes, it will end with a color wars assembly on Friday. The spirit days go as follows: Monday is tourist day, Tuesday is dynamic duo day, Wednesday is guardian day, then Thrifty Thursday, and color wars on Friday.
All Falcons are encouraged to participate in this fun week. ASB Vice President, Will Sanborn, thinks people should dress up to, "show their school pride." Sanborn is most excited for Thrifty Thursday because he feels he has a great outfit planned.
Junior, Kianne Bell, enjoys spirit week because it is a chance to, "connect with others through a fun activity." Bell also likes, "seeing how people choose to express themselves."
Bell is most excited for the dynamic duo day because she plans to coordinate outfits with some of her best friends.
Spirit week always ends with a color wars assembly where grade levels compete in fun competitions. Sanborn believes that the senior class will win this year because they have, "been through all of high school together and this year [they] will turn out to show [their] senior pride."
Bell believes that the junior class, as well as all of the other classes, do not stand a chance to win because, "the seniors always win!"
Bell encourages people to dress up because it is, "an experience you can't [get] back." To all the Falcons not looking forward to spirit week, remember that with spirit week closely approaching, spring break is always right behind it!