Falcon's Have Snowy Days… In March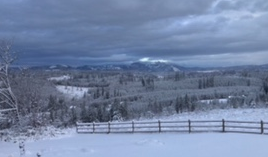 Hang on for a minute...we're trying to find some more stories you might like.
Spring sports just started for the Falcons, but it seems like the warm weather that comes with spring, might take a little longer to get here. On March 6 and 7 snow fell all day and temperatures remained cold. For students participating in spring sports this is a problem.
Sophomore, Trevor Hunt, runs track and field. Hunt does not, "mind the snow", but also does not, "like running in it." Unlike other sports, track and field does not get cancelled to due weather and the athletes still have to practice in the snow.
Junior, Dayna Vera, claims that the weather affects her performance in her spring sport. Vera says, "when it's really cold I can't get warm enough so I run awful."
Both Hunt and Vera feel ready for the sun. Hunt, "loves the sun and feels like [he] can do more." Hunt is tired of practicing in the snow as, "practices are not really fun and it's cold and it sucks."
Vera believes that, "the sun makes every day better." She believes that it is way better for track season too because athletes are not always freezing and don't have to wear layers of clothes.
The snow also affects sports like baseball and softball. In these sports, the athlete's cannot practice outside on the fields when it is too wet.
The Prairie Falcons are ready for some sun and like Vera says, "the sun can come out right now and stay forever!"