Prairie and Fairway United Forever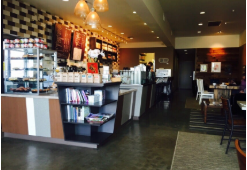 Hang on for a minute...we're trying to find some more stories you might like.
Fairway is a coffee shop across the street from Prairie, near Winco foods and the Arco gas station. Many Prairie students and staff "love the drinks here at Fairway." says Tanner Snider, a Fairway employee. Fairway coffee is convenient. It's known for its "surprise rockstars at great prices; compared to other coffee shops." says Snider.
Between the rush of first and second lunch, "2:45pm through 3:30pm are our busiest times filled with Prairie students." say Snider. Though there are many students and staff that enjoy Fairways "delicious bagels, donuts and drinks" says Morgan Borweick a "Fairway addict" and sophomore at Prairie, there are consistent students who visit on the daily bases as does Borwick. "We have regulars, in fact they are here now. Cori [10th grade] and Dillion [9th grade] often come and buy drinks or bagels." says Snider.
Snider was asked about the amount of money that is weekly spent on Fairway Coffee by Prairie students. He responded "We get around $2,500 a week on Prairie students alone. About 100+ students a day."
Prairie students love the " people at Fairway and their good prices." says Borweick.
Borweick finally explains "Some people are late for school because they don't leave early enough." but it okay Prairie and Fairway are forever united.