Valentine's Day Fun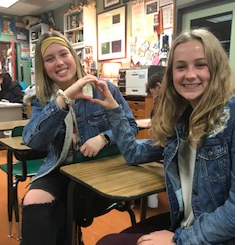 Hang on for a minute...we're trying to find some more stories you might like.
Like every year, February 14 was Valentine's Day and students at Prairie High School fully participated in the holiday traditions. Student's shared and felt the love throughout the whole week.
To junior, Grace Adams, Valentine's day is, "a day to show people that you care about them and are thinking of them." Adams showed her love by going, "out to dinner and ice cream," with her boyfriend.
Sophomore, Addy Friesen. thinks Valentine's day is, "a day to celebrate love in general- not only relationships like boyfriend and girlfriend." Friesen helped to share the love by sharing her candy with everybody.
Valentine's day is centered on love and Adams believes that love is, "being able to share something with someone you care about."
Friesen defines love in simple terms as, "being selfless." She believes that love, "is putting another before yourself- always."
This year at Prairie, Valentine's day was in conjunction with Inspire Week, which was a whole week dedicated to making Prairie a better and more positive place. This helped students at Prairie High School to really feel the love this week.