Prairie Wrestlings Off to State, As Blonde As They Can Be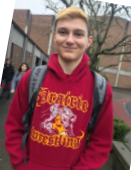 Hang on for a minute...we're trying to find some more stories you might like.
Prairie is off to the Tacoma Dome to wrestle in State. During this time, wrestling tradition is bleaching their hair blonde. This is a strong statement showing the wrestler is going to state. Wrestlers Justace Walmer and Bridger Paridis are two strong wrestlers. ¨This tradition is for all wrestlers around state,¨ says Senior and Prairie wrestler, Justace Walmer.
Walmer has been wrestling for six years now. He is, ¨looking forward on going to the Tacoma Dome, because [he has] yet to go there.¨ Walmer has many well played matches, one of his favorite from this season is, ¨when we went against Mt. View. "I won our dual for the whole team." says Walmer. Prairie is planning on being successful at state, ¨though it may be tough,¨ states Paradis.
Based off Walmer´s perspective, ¨Wrestling is about who has more mental drive.¨ This is what Walmer believes will take him the farthest at state. In addition to Walmer´s confidence, Paradis, ¨felt forced into,¨ bleaching his hair.
Bridger Paridis is a Junior at Prairie, making many accomplishments during his season leading to State. He has been involved with wrestling the last four years and, ¨hopes he does well at State.¨
When at the Tacoma Dome, Paradis mentions, ¨It is overwhelming and can make negative thoughts come. But, the yelling can keep me on my toes, so I am going to try to use that to my advantage.¨
Overall, the tradition of bleaching the hair of ¨off to State¨ wrestlers is a motive for promoting, ¨our confidence in Prairie wrestlers.¨