Inspire Week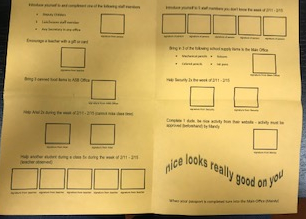 Hang on for a minute...we're trying to find some more stories you might like.
From February 12 through the 15 the Prairie Falcons are participating in a new program called Inspire Week. Inspire Week is being lead by select teachers and students and the main goal of it is to make Prairie a better place.
Junior Haley Reed is one of the 120 students leading this week long event. Reed claims that her role in it is to, "help plan events that we'll do throughout the week." Some events occurring during this week include an assembly with a special guest speaker and a campus clean up.
Senior DaVanna Aho says that her role in Inspire Week is to "help inspire students to want to come to school, to be kind to one another, and show people how the simplest things can really make an impact on someone's life."
However, the selected students are not the only ones welcomed to participate; it is open to all. Reed says that participation is very easy and could be as simple as, "if you see trash, pick it up. If somebody is sitting alone, sit by them."
Students also received an, "inspirational passport," that gives plentiful ideas on how to help. Aho believes that as students try to complete the tasks in the passport, "it should hopefully help inspire the students to be friendly to others and meet new people around Prairie that they've never met or even talked to before."
Passports are to be turned into the main office when completed and students that filled them out will be entered into a prize drawing.
Inspire week was designed to ultimately help Prairie become a more welcoming and friendly place. Its goal is to bring everybody closer together. As Aho puts it, inspire week will help the, "students and staff realize how valued and loved they are by the people at Prairie"