Ignite the Fire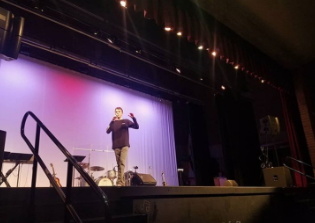 Hang on for a minute...we're trying to find some more stories you might like.
Every year, the Christian Students United (CSU) club holds a gathering called Ignite the Fire. The next one will be held on Wednesday, February 13. As usual, the event will occur in Prairie's auditorium starting at 7:00 p.m. and lasting around two hours.
This year, the event coincides with Prairie's Inspire week. The guest speaker, Jamie Winship, at Wednesday's assembly will also be speaking later that night at Ignite the Fire. Winship is a CIA agent who lives in Seattle. Prairie is fortunate for him to be able to come since Seattle is currently snowed in, "He actually rented a car," says Mrs. Rowe, the CSU advisor.
Winship is filled with stories, which Rowe hopes he will share at the assembly. Some could be about how he and his family moved to the middle east and worked with militant muslims, teaching them to, "bring peace instead of war," Rowe adds. Winship might also speak about identity, as Rowe says he teaches, "Who you're created to be, deeper at the core."
Rowe is excited because people are going to be driving and flying in from, "far distances." Not only student but people who know her, as they've been asking, "Can I come too?" Rowe hopes what people will get out of this night is finding out, "who they were created to be so they can live a life with passion." Rowe says this is the bottom line goal of every Ignite the Fire is, "to turn depression into passion."
The CSU club hopes to hold one more Ignite the Fire session this school year some time in May, but, they have nigger plans for the future. Summer of 2020, they hope to hold a large conference to impact more lives.