AP Testing and Registration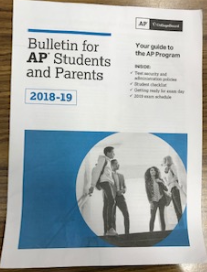 Hang on for a minute...we're trying to find some more stories you might like.
This last week marked the beginning of AP test registration for students at Prairie High School. Taking AP classes and tests gives high school students the opportunity to earn college credit, saving both money and time. Prairie offers a wide variety of AP classes, including US and World History, Government and Politics, Calculus, Literature and Composition, Biology, and more.
Many students at Prairie have loaded their schedules and are taking more than one AP test this year. Among these students are senior Peyton Millet and junior Anna Neal.
Millet is taking AP literature, calculus, and government, all in this school year. He feels that once it comes to the end of the year, "you either know [the material] or you don't." Millet thinks that his teachers have done a good job preparing him for the tests so far this school year.
Anna Neal will be taking the AP language and statistics tests at the end of the school year. Last year, Neal took the AP world history test and used online resources and videos to study. Neal admits that her teachers, "haven't talked about AP testing at all in class," this year, which is a little worrisome to her.
AP tests cost $94 each, and when planning on taking more than one test, like Millet or Neal, the price can add up. Neal thinks that the, "price is the worst part" about AP classes.
Millet also thinks that the tests are expensive, but he realizes that, "it can save you money in the long run, and compared to the price of college, it is pretty cheap."
If you are planning on taking an AP test this school year and have not yet done the preregistration, see Mrs. Mcquiston in the main office. More information about AP testing can be found on the national AP website.